Double Chocolate Biscotti with Cranberries and Pecans
I love, love, love a beautiful biscotti and hot tea. Especially on a cold Mid Western night! Of course making them fresh is always better than store bought.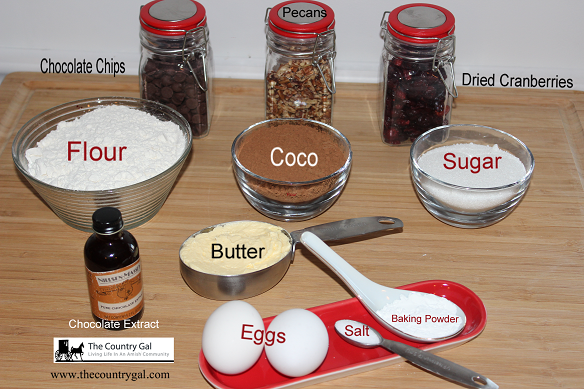 Here's everything you'll need to make these delicious babies!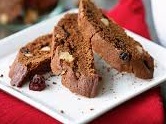 Double Chocolate Biscotti with Cranberries
2013-12-27 11:13:40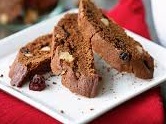 Serves 24
Ingredients
2 cups flour
1 1/2 teaspoons baking powder
3/4 cup sugar
1/2 cup (1 stick) unsalted butter, room temperature
1 tablespoon almond extract
1/4 teaspoon salt
2 large eggs
3/4 cup chopped almonds
2/3 cup dried cranberries
1/2 chocolate chips
Instructions
Preheat the oven to 350 degrees F.
Line a heavy large baking sheet with parchment paper or a silicon baking sheet. Combine the flour and baking powder in a medium bowl and whisk. With an electric mixer, beat the sugar, butter, almond extract and salt in a large bowl until smooth. Beat in the eggs 1 at a time. Add the flour mixture and beat just until blended. Stir in the pecans and cranberries.
Form the dough into a 12-14-inch long, 3-inch wide log on the prepared baking sheet. Bake until slighly brown, about 40 minutes. Cool for 30 minutes.
Place the baked biscotti on the cutting board. Using a sharp serrated knife, cut the log on a diagonal into 1/2 thick slices. Arrange the biscotti on the baking sheet. Bake the biscotti until they are evenly browned, about 15 minutes. Transfer the biscotti to a rack and cool completely.
Melt the chocolate chips either in a microwave or in a bowl a saucepan simmering over boiling water until the chocolate chips melts. Dip half of the biscotti into the melted chocolate. Gently shake off the excess chocolate. Place the biscotti on the baking sheet for the chocolate to set. Refrigerate until the chocolate is firm, about 35 minutes.
Notes
Store them in an airtight container up to 4 days, or wrap them in foil and freeze in resealable plastic bags up to 3 weeks.
Adapted from Amish Biscotti
Adapted from Amish Biscotti
The Country Gal https://thecountrygal.com/