The Radiance Nebulizing Diffuser by Organic Aromas

This is the perfect gift this holiday season. It's naturally made from real plantation hardwood and hand-blown pyrex glass which makes it friendly for the environment. Quickly fill up any room with your favorite pure essential oil aroma. It uses no water, no heat and is not made of plastic. This beautiful gift comes in two colors; a natural light-colored wood and a stained dark wood allowing it to blend in with your home decor.

Leakproof Non-Stick Silicone Baking Mat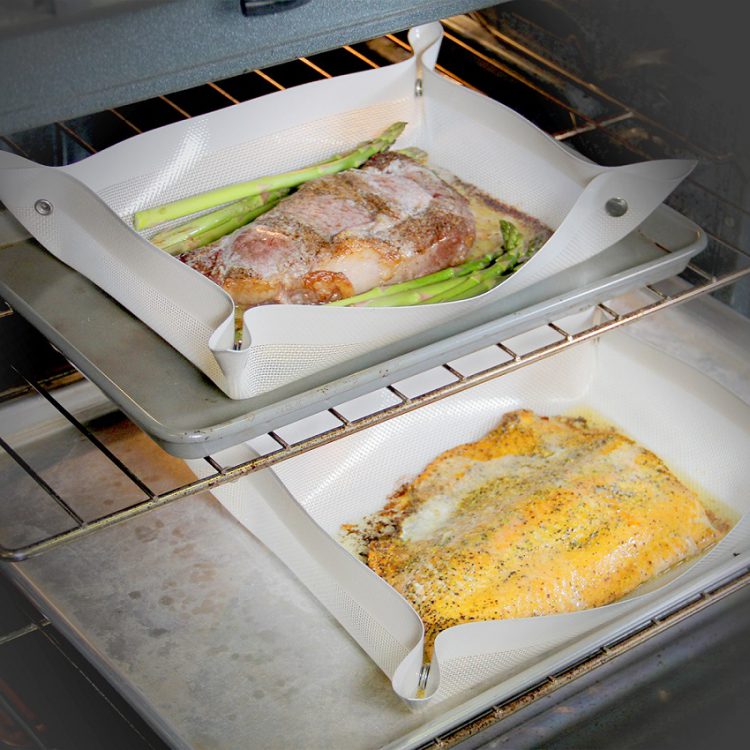 First-Ever Baking Sheet That Turns Into a Leak-Proof Baking Dish!Is it a baking sheet or a dish? It's both! The new silicone baking mat from Grand Fusion Housewares transforms from a non-stick baking sheet perfect for cookies into a non-stick AND leak-proof high-rimmed dish ideal for chicken, fish or meat in seconds! Just snap the corners together and get even heat distribution up to 450 degrees, along with the fast clean-up you expect. Grand Fusion Housewares provides free shipping for orders over $15. Also available on Amazon.
Bondic is Your Home Improvement/Renovation Fix-All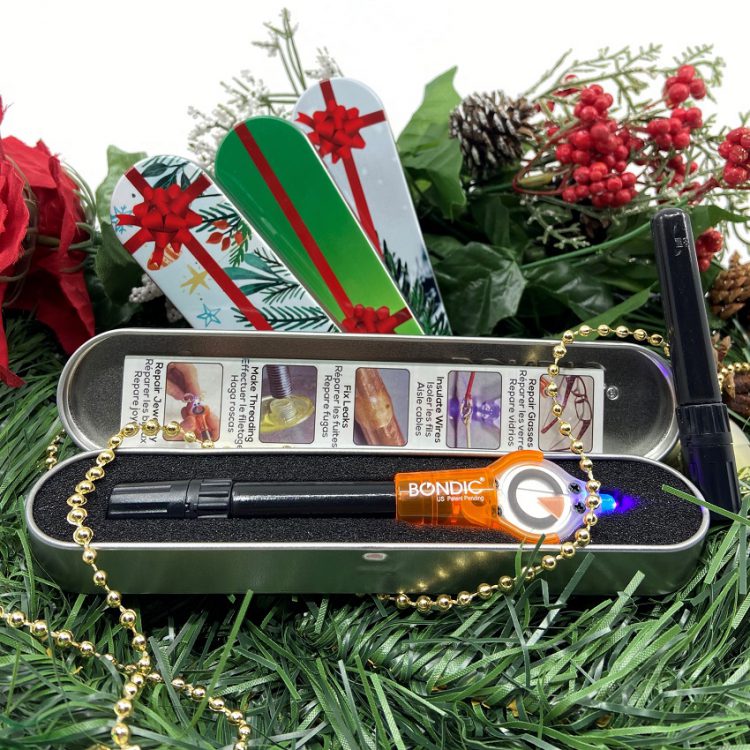 Never mind the glue, pass the plastic welding! Whether you're trying to mend a broken part, patch a ripped phone charger cord, or even repair wood or metal, there's one adhesive that's good for them all and more! It's Bondic, a liquid plastic that's more like welding than old-fashioned gluing. Initially designed by a dentist and based on the "cement" he used in his practice, Bondic is easy to work with and won't harden until exposed to the special, included UV-ray wand. Then, it cures in seconds, and often makes your fixes stronger than the original and able to stand up to stress and pressure! Just follow the easy four-step process: clean/roughen, fill, cure and shape. Layers can be built up, and it can be painted or even sanded! It fills, bonds and repairs plastics, ceramics, glass, metal, textiles and wood, and is heat and water resistant. Also available on Amazon.
For a limited time, Bondic is offering a 40% off on this: Christmas Special Gift Set

Pass The Pigs® Pig Party Edition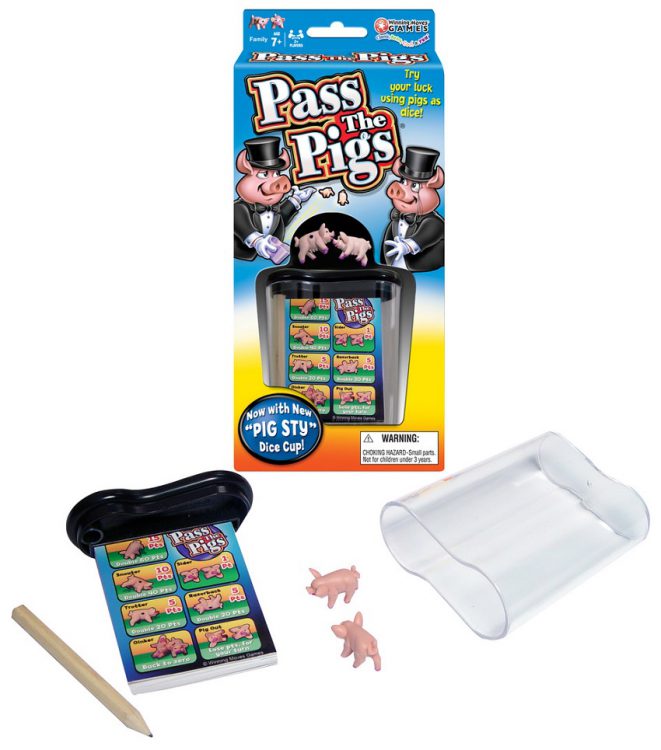 Now up to 4 players can play ALL at once! Four pairs of Pigs are included. Each Player tries to be the first to roll the pigs pictured on the card in play. If you make a match on your first roll, you earn a bonus roll with all eight pigs! Handy carrying case makes it easy for great Pass the Pigs fun on the run! Contains: Eight pigs (four pairs), deck of 30 Pig Roll, Bonus and Point Cards, zippered carrying case, and Illustrated instructions.
Ages: 8+; Players: 2 to 4; SRP: $15.95;

Pass The Pigs® Big Pigs™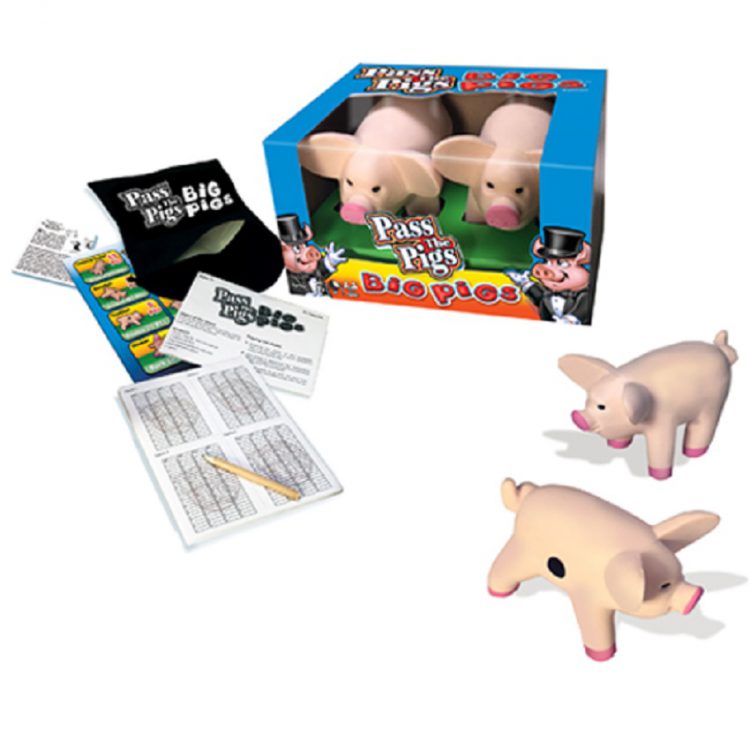 The classic party game, try your luck using pigs as dice!
A hilarious game where you roll pig-dice into hysterical positions, just don't "Pig out" and lose all your points. These fabulous oversized foam versions, can hit all the pig poses that their little pig dice cousins do! Non-stop Pig-Tastic Fun!
Contains: 2 oversized foam pig dice, 1 oversized score pad, 1 drawstring pig storage pouch, 1 pencil, illustrated instructions and Pass The Pigs history.
Ages: 7+; Players: 2+; SRP: $17.95;

13 Dead End Drive™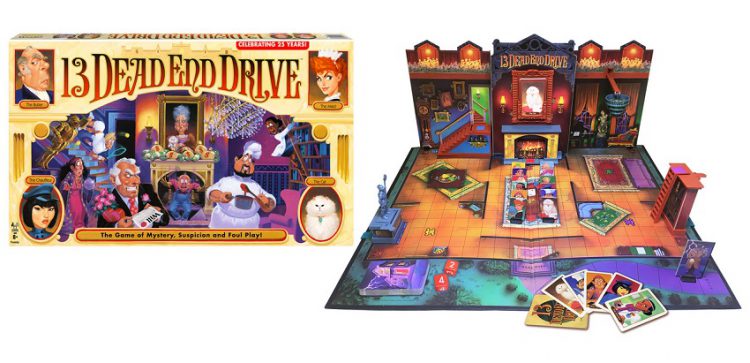 Which one of Aunt Agatha's friends and employees will inherit her loot? Players carefully guard their identities and stay sharp as they wind their way through the mansion. Be aware of the smashing statue, the cranium-crushing chandelier, or the perilous push into the fireplace. With 3 unique ways to win, players will be dying to play over and over again! Contains: 3-D Mansion Gameboard with Plastic Stairs, Fireplace, Chandelier, Bookcase, Statue and Portrait Frame, 13 Cardboard Playing Pieces with Plastic Stands, 54 Cards, 2 Dice, Plastic Clips and Rubber Bands, Cardboard Parts Sheets, Self-Adhesive Label Sheet, and Illustrated Instructions.
Ages: 8+; Players: 2 to 4; SRP: $29.95;

Large Print Tile Lock Scrabble®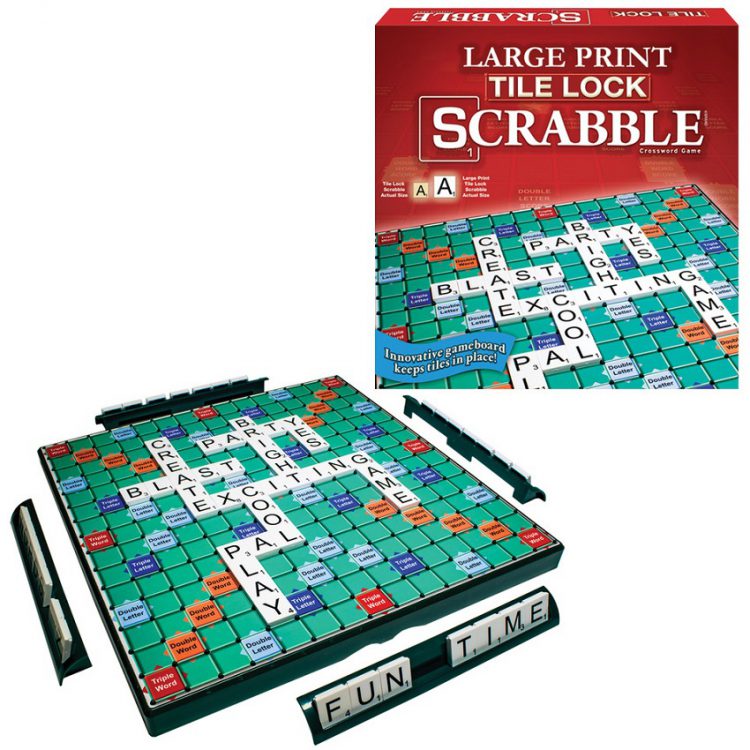 Your Scrabble words won't be slip-slidin' away thanks to this boards clever "tile-lock" design. Every word counts when you are playing this specially designed large print version of the world's leading word game. The integrated turntable function makes rotating and moving the board simple, and that large print board, tiles, and rules booklet are clear and easy to read. Contains: Large Print Tile Lock Playing Board with Turntable Function, 4 Large Plastic Tile Racks, 100 Large Print Plastic Letter Tiles, Cloth Tile Bag, and Large Print Rules Booklet.
Ages: 8+; Players: 2 to 4; SRP: $44.95
Large Print Tile Lock Scrabble

No Stress Chess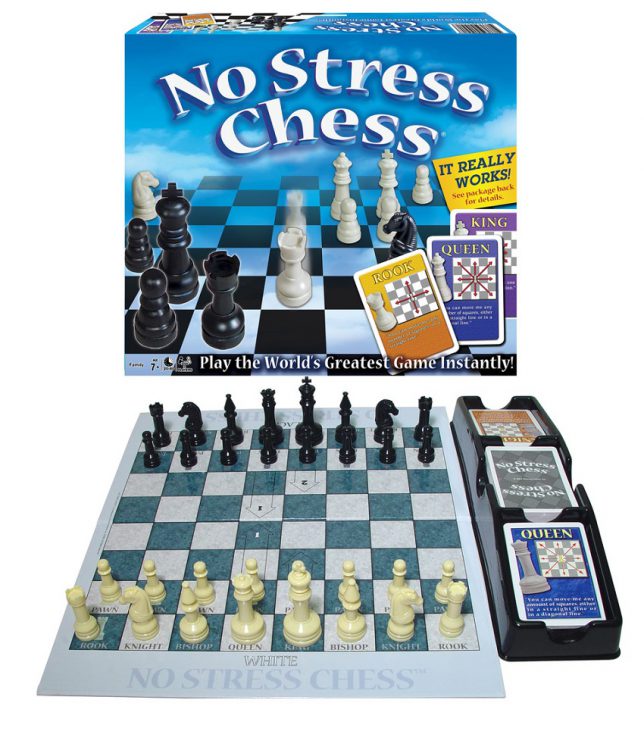 Use an innovative deck of action cards to start playing the world's greatest game instantly!
Unlike any other Chess teacher, No Stress Chess teaches you how to play using illustrated cards and an illustrated 2-sided board. Just flip the board to play regular chess.
Contains: 2-sided chess board, set of 32 chess pieces (ivory & black), 56 action cards, card tray and instructions.
Ages: 7+; Players: 2; SRP: $17.95

Blobby's Pizza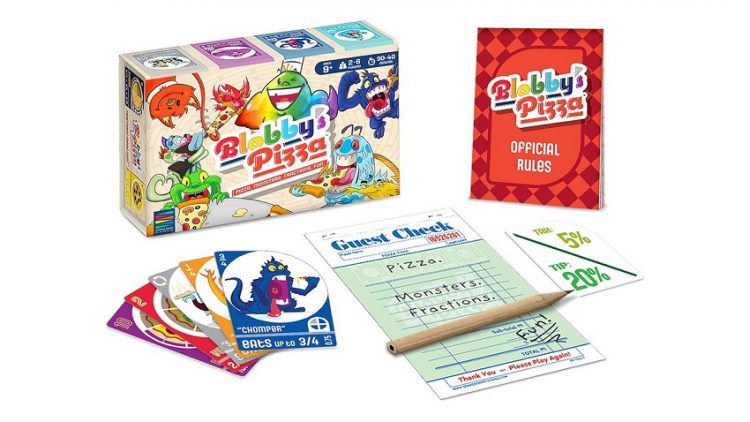 The is perfectly stocking stuffer-sized for family/friend adventures with its bright colors and cute monsters! The strategic pizza-eating contest teaches fractions, decimals, and percentages for kids 9 and up. With their monsters, players can eat their way to the highest bill, while sharpening those math skills! However, in the game, you'll also need to keep your eyes on your pies, 'cause you can never know when another player's monster will try to steal your pizza!