The Ultima Tree is the Ultimate Christmas Tree Experience!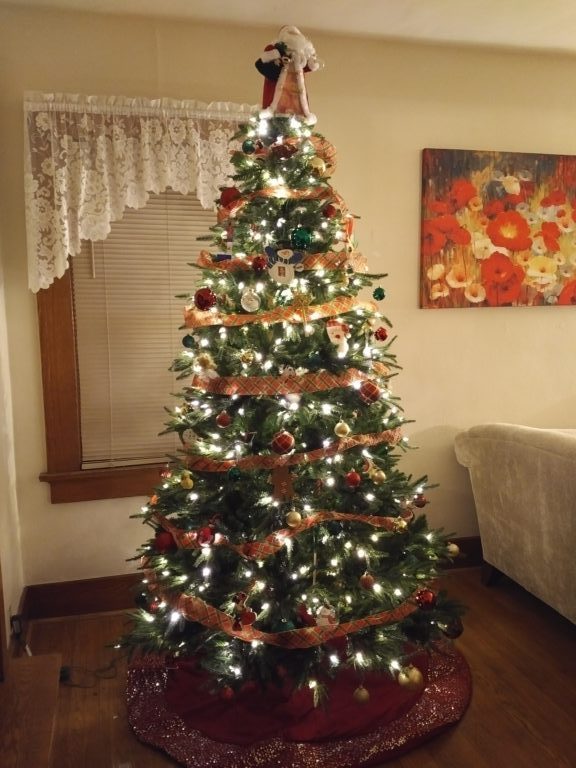 The Christmas season is upon us and it's time to start thinking about your tree. Maybe you have an old, dusty tree in your attic that you reuse every Christmas. Maybe you pick out a real one every year. Either way, it's time to upgrade your tree! I've been using the same old tired tree for almost ten years now and I've been thinking about replacing it for several years now. I'm so glad I finally did with the ULTIMA tree. There's no denying that there's something charming about having a real Christmas tree. But if you think about it, the cons far outweigh the pros. With a real Christmas tree –
You have to spend hours in the freezing cold, choosing the perfect tree.
You have to pay for a new tree every year, up to $200 each!
You have to wrestle it onto the roof of your car and hope it gets home in once piece.
You end up with a house full of sharp, pointy pine needles under your feet.
You get new house guests with the bugs and spiders ready to crawl out into the warmth of your home.
Your allergies go crazy from all the unknown pollens inside the tree.
You have to take the time to dispose of it properly when Christmas is over.
You have to make sure to keep it watered properly due to the obvious fire hazard.
Even regular, fake trees have many disadvantages. My old ratty tree took forever to assemble, pieces were always getting mixed up, mangled and lost, and worst of all, fluffing the branches took forever. I used to dread putting up the Christmas tree every year, but since I got the ULTIMA tree, I'm actually going to look forward to it from now on!
---
What it's made of:
Unfortunately, I have terrible, horrible, no good, very bad allergies, which is the main reason I've never had a real Christmas tree. So if you're like me, then rejoice! The ULTIMA tree is hypoallergenic, making it an excellent choice over fresh cut trees! The branches, trunk and stand are all steel. The tips are 60% polyethylene and 40% polyvinyl chloride, both different kinds of plastics.The hubs which hold the branches are also plastic. No more mystery pollens in your tree making you sneeze through Christmas morning!
---
Wrap & Strap™ Storage System:
The packaging of this tree is borderline genius. I love the way the pieces come packaged in the box. Using the Wrap & Strap™ storage system, the Ultima tree comes in ten sections for easy storage and assembly and the box comes with removable cardboard trays for easy stacking and storage. The numbered storage wraps help compress and protect each section. Then, when it's time to pack the tree away, the box closes easily and securely. I no longer have to smoosh all pieces into the box, wrestle with the box tape and hope it doesn't explode.
---
FeatherWeight™ Assembly:
I was honestly surprised at how easy it is to set up this tree. From box removal to completely assembled, it took me about 10 minutes, including fluffing the branches. This tree is 7.5 ft tall and it used to take me twice as long to fluff the branches on my old, tiny tree. Because each section weighs less than 8 pounds, there's no heavy lifting required. My eight-year-old daughter was able to assemble the first half of the tree until it got too tall for her to reach!
---
Step 1:
One of the biggest hassles I deal with every year is the Christmas tree lighting. Finding and untangling cord after cord, then discovering that one or more of the bulbs has broken or burned out, then hoping you have extras and if you don't, making an extra trip to the store for new bulbs or lights. Phew! The lights are by far my favorite feature of the tree. Because it's pre-lit, I never have to struggle with light cords again. The ULTIMA tree has 680 energy-saving LED lights with 9 light settings, ranging from clear to multicolored with various patterns, all easily manipulated with a foot pedal. There are also 60 extra LED lights around the rings of the tree trunk, which give the tree and all of your ornaments that extra glow. Every morning, the kids fight over who gets to turn the tree on, then we all take turns changing the patterns throughout the day.
---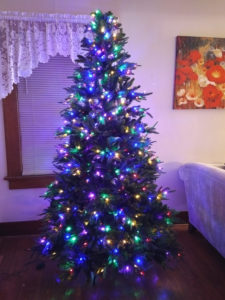 ---
The ULTIMA tree is that it comes with a 10-year limited warranty, but can last much, much longer with the proper care and storage.I love that I'll be able to enjoy this tree with my kids for years go come!
For free shipping and $100 off your ULTIMA tree purchase, use coupon code MOMSOCIETY.
---
Connect with Ultima: Shop | Facebook | Twitter | YouTube | Pinterest | Instagram | Google+