Felt Christmas Tree with Lollipop Decorations
Making fun and easy decorations for our home for the holidays is one of my favorite things to do. And it's even better when those decorations include a favorite treat. Koochikoo No Sugar Added Organic Lollipops are one of our current go-to candy choices and when I saw this simple felt Christmas tree kit at the Dollar Tree, I knew just what I had to do. I was so happy with how this turned out! It will look adorable on our wall for the season…or until the kids can't resist temptation anymore and eat all the pops!
Easy Felt Christmas Tree with Lollipop Decorations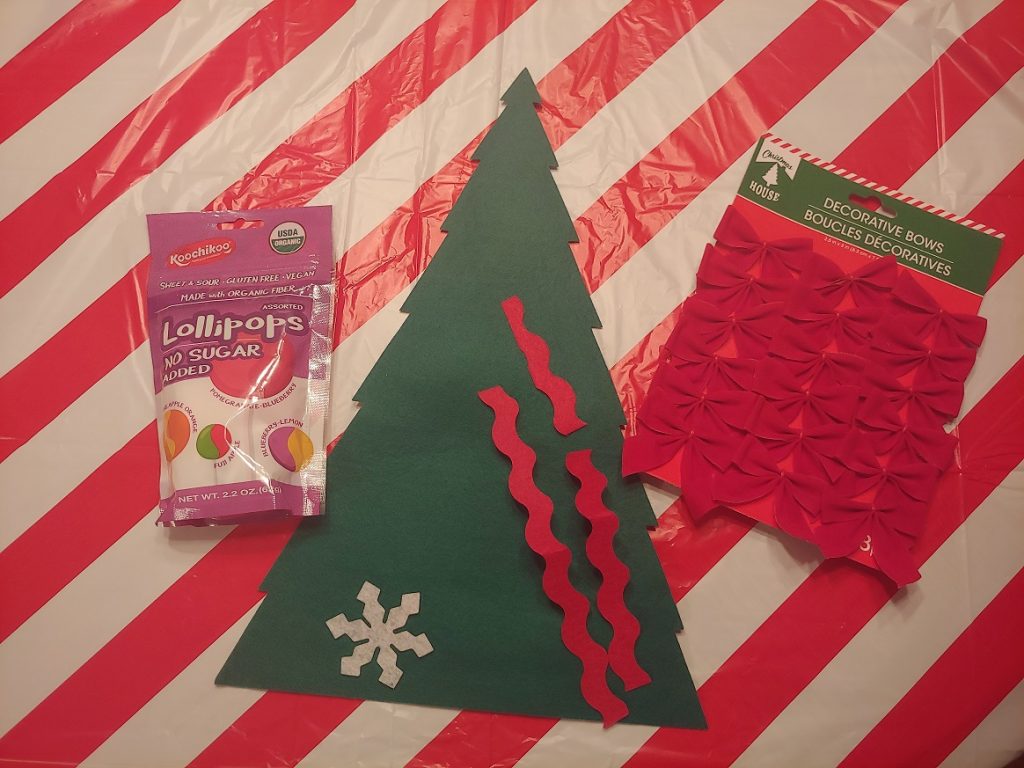 All you need to put this together is a felt Christmas tree kit, available at the Dollar Tree, some twist tie bows, and a pack of Koochikoo No Sugar Added Organic Lollipops. You can also make this without a kit, simply by cutting out a tree, star, and decorations out of felt.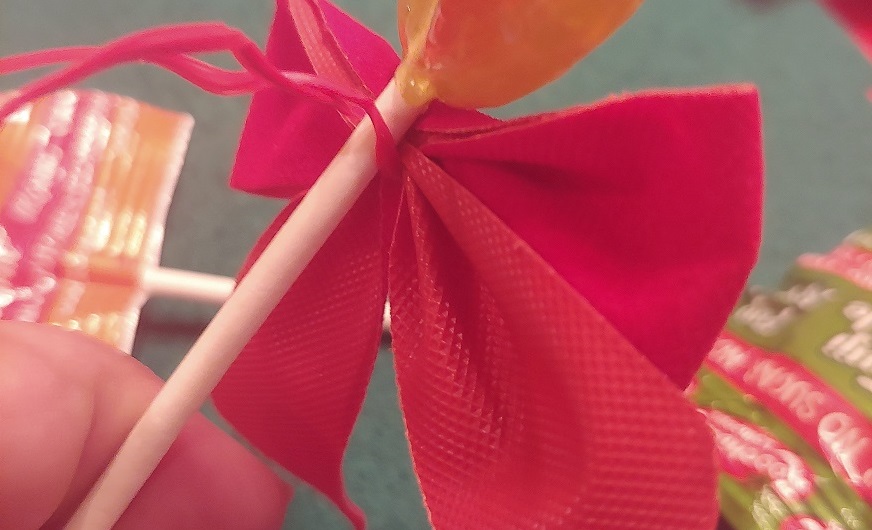 Twist the ties of the bows around the lollipop stick to secure it to the pop. If your bows do not have the twist tie backs, you can secure with hot glue. I love the twist ties because the lollipops will still be edible.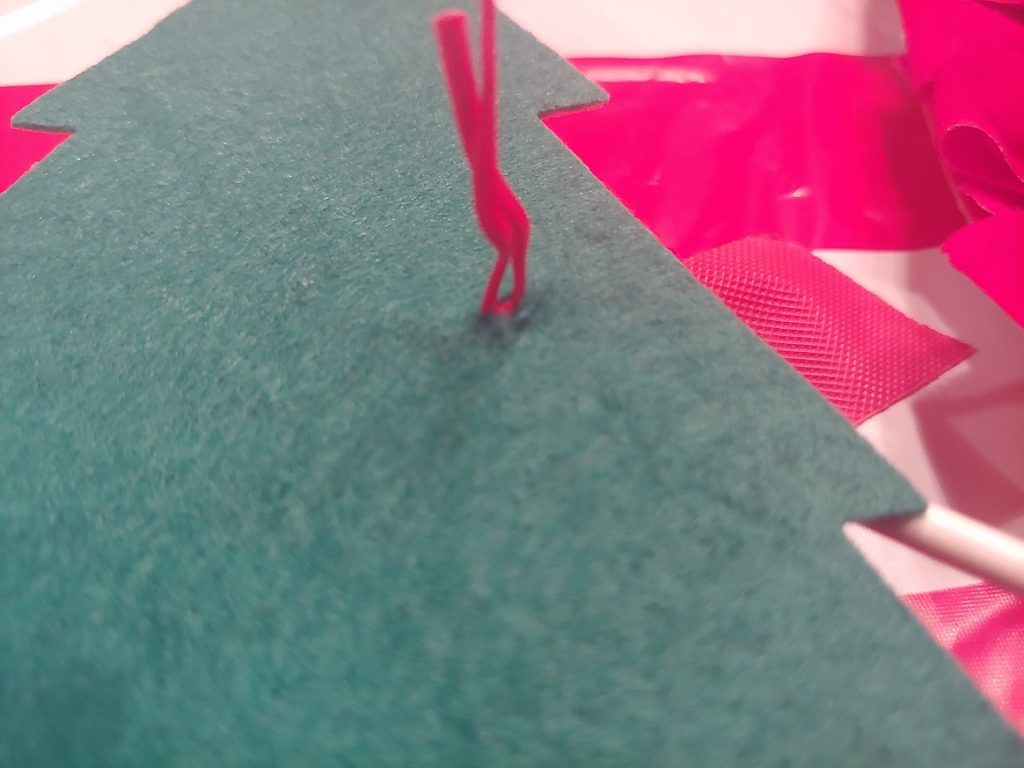 Poke a small hole through your felt tree with the tip of a knife or a large darning needle. Feed the twist ties through and tighten them. Make sure that they lay flat against the tree so that it can hang on the wall.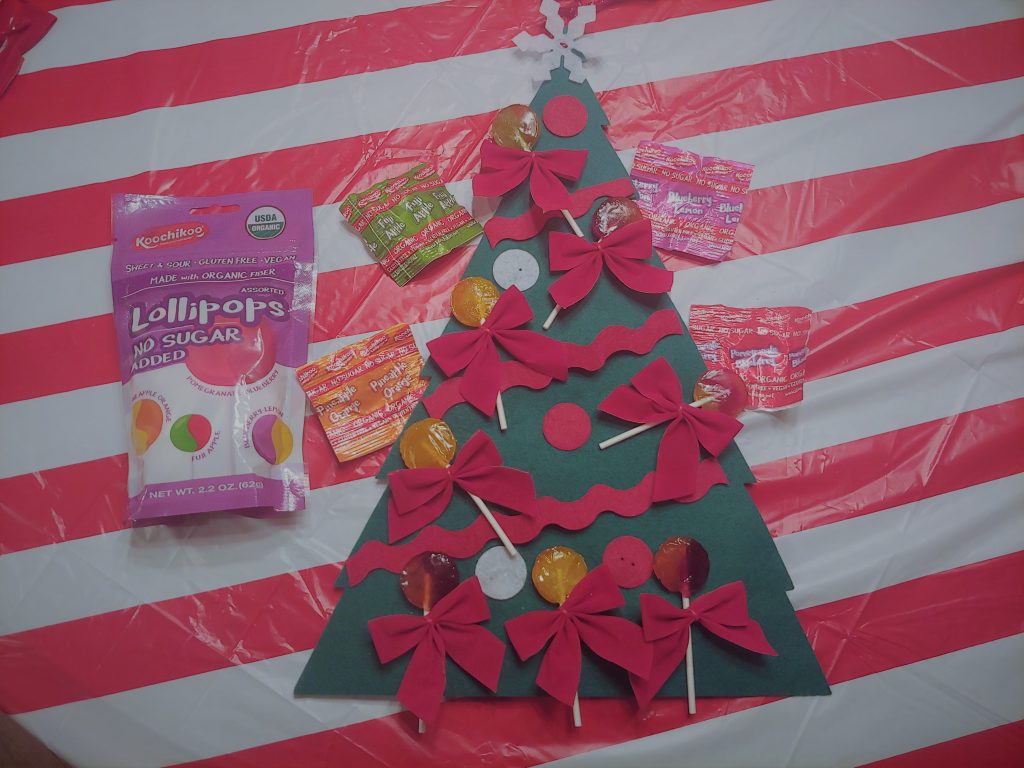 Fill your tree with lollipops, then add additional felt decorations to fill in the gaps. I fed a piece of yarn through the star on top, so that it would hang easily on the wall.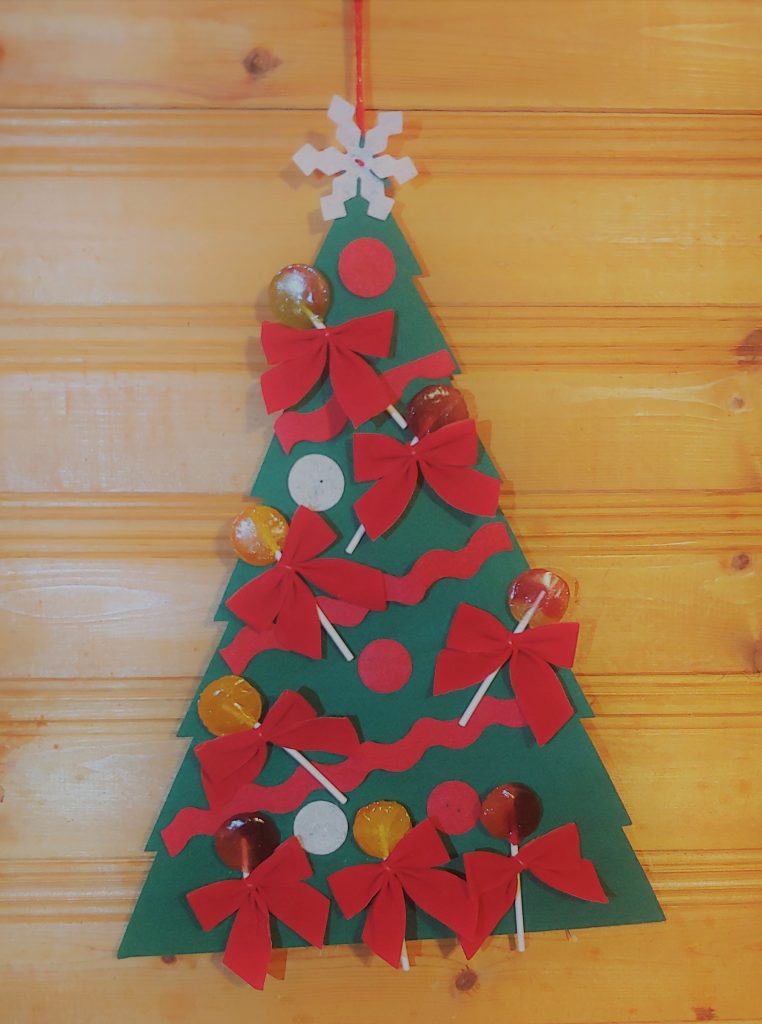 Hang up to display and enjoy! Be warned…if your family is like mine, you'll be replacing those lollipops every day because they'll eat them all up!
Why Choose Koochikoo Organic Lollipops?
Koochikoo No Sugar Added Organic Lollipops are the world's first organic, sugar-free candy. The product of four years of research and testing, these lollipops contain no sugar or artificial sweeteners, making them a wonderful choice for anyone trying to reduce sugar consumption or who simply wants to live a cleaner, organic lifestyle.
Kids love the delicious taste of Koochikoo Organic Lollipops! They come in four superfruit combinations that will bring a smile to anyone's face. In our house, everyone has a different favorite from the Blueberry-Lemon, Pineapple Orange, Fuji Apple, and Pomegranate Blueberry choices.
Koochikoo Lollipops are sweetened with organic tapioca fiber, which has a similar sweetness to a soft honey. In addition to being a delicious natural sweetener, tapioca fiber is a natural prebiotic, which helps to aid in digestion. Each lollipop is only 10 calories and contains 5 grams of dietary fiber, making it more than just a fun piece of candy!
You can find Koochikoo No Sugar Added Organic Lollipops at Marshalls, Homegoods, and TJ Maxx. Or you can purchase them online through the Koochikoo Amazon Store. Enter the code lollipower at checkout to get 10% off your purchase of Koochikoo Lollipops!