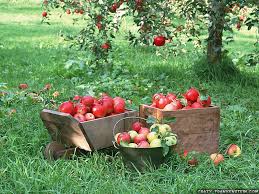 Andy stopped by late last night, Andy is my direct Amish neighbor. Our property lines connect. Usually, when Andy comes-a-calling, he wants something. Well, here it was 7:00 pm and I'm already down for the night. I'd taken off my bra, put on my checkered-a-size-to-big-boxers and a bit too-tight-t-shirt. I let my hair down and took my make-up off and I'm all ready to bunker down for the night, when the dog starts barking like mad.
Any-who, here I am bra-less and standing on the porch cross-armed talking to my Amish neighbor! Why do they always come at the most inappropriate times? Even my family calls first! (I know you don't have a phone Andy, but here's an idea… Come over, leave a note on my door announcing you'll be stopping by tomorrow at such and such a time)! Geez, at least give me time to put on a freaking bra![clear]
So, his wife Pauline wanted to make applesauce, and in order to do that they wanted some of the apples off of our apple tree. Here's the thing, while I love my Amish neighbors, they are more takers than givers! So, I tell Andy, "I"ll make you a deal Andy, get me your wives white bread recipe and you can have some apples off our tree"! Hehehe, yup I really said that to him.[clear]
It worked, the next night, again unannounced Andy shows up with recipe and two-buckets in hand. I guess he really wanted those apples. The next day, I made Pauline's Amish White Bread and it's to die for![clear]
Hubby took a loaf to work with him, as the recipe makes three loaves and that is way more than we can eat before it turns to mold! The guys at work loved it.[clear]
So, here's the real kicker, remember I said that my Amish neighbors are more takers than givers? Well, here I am putting all the ingredients together for Pauline's Amish White Bread, and I realized there's no instructions, just ingredients! WITH A NOTE AT THE BOTTOM THAT READ "I like to use Seal of Minnesota Flour and the Red Star Instant yeast. If you want I can let you know where I buy the yeast and flour…Stop in! Your neighbor, Pauline"[clear]
Ok, well since there were no instruction on the making of the bread, no bake time, now temperature settings and it didn't tell me how many loaves it made, I had to go over to Pauline's and get the rest of the information.[clear]
So… I'm sitting at the table in Pauline's house with her two oldest daughters, and her youngest son and we're talking about the bread and what I need to do to make it. When out of nowhere Pauline starts talking about the brand of flour and yeast and proceeds to tell me she get's it at the Bulk Store over in the next town. Then she says, "When you go, let me know I could use a ride".[clear]
Yup, you guessed it, the missing instructions on the recipe card were an all out ploy to get a ride to the bulk store.[clear]
Gotta love them neighbors!
The Country Gal
Amish White Bread
2014-01-04 15:58:48
Ingredients
1 cup Warm Water about 110 degrees
Mix: Yeast Mixture
2 tbsp. Yeast
1/2 tsp Sugar
Set until foam appears
Mix: Flour Mixture
2C. Hot Water
1/3 C. Veg-table Oil
1/2 C. Sugar
1 TBSP. Salt
7 C White Flour
Instructions
Mix the yeast mixture into the flour mixture. Hand mix until all ingredients are mixed. You do not need to kneed it, just form it until it's nice and round.
Grease a large bowl.
Place in blow and cover with plastic wrap.
Let rise until double in size
Punch down and reform until round.
Divided evenly into threes.
Spray three bread pans with cooking spray
Place formed bread loaves into bread pans
Recover with plastic wrap
let rise again for about 30 minutes.
Bake @350 for 25-30 minutes Immediately place and cooling rack. Enjoy!
The Country Gal https://thecountrygal.com/