12 Ways to Make Delicious Deviled Eggs
Eggs must be hard-boiled and peeled.
Deviled Eggs Directions are the same for all recipes.
– Halve eggs lengthwise. Remove yolks and place in a small bowl.
– Mash yolks with a fork and stir in ingredients.
– Fill egg whites evenly with yolk mixture.
– Salt and pepper to taste (optional)
– Sprinkle with paprika to garnish (optional)
– Store covered in your refrigerator.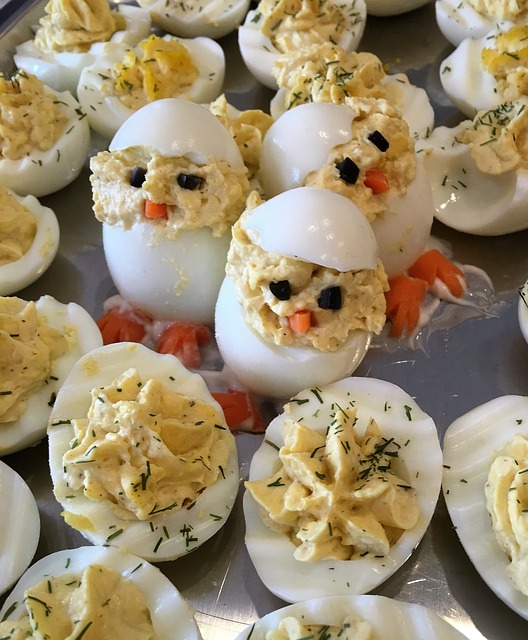 Classic Deviled Eggs
12 eggs
1/2 cup mayonnaise
3 tbsp. sweet pickle relish
2 tsp. prepared mustard
Chipotle Deviled Eggs
12 eggs
1/3 cup plus 2 tablespoons mayonnaise
2 tsp. finely chopped canned chipotle chilies
24 fresh cilantro leaves
*add more chilies for extra zing
Buffalo Deviled Eggs
12 eggs
1/2 cup blue cheese – crumbled
1/2 cup mayonnaise
3 tsp. dried parsley
2 celery stalks – finely minced
1 tsp. Tabasco sauce
Horseradish Deviled Eggs
12 eggs
1/2 cup mayo
1 tbsp. prepared horseradish
1/4 cup sour cream
1 tbsp. spicy mustard
4 bacon slices, cooked and crumbled
3 minced green onion stalks
Bacon & Cheddar Deviled Eggs
12 eggs
1/2 cup mayonnaise
4 bacon slices, cooked and crumbled
2 tbsp. finely shredded cheddar cheese
1 tbsp. spicy mustard
1/2 tsp. dried parsley
Cream Cheese (no mayo) Deviled Eggs
12 eggs
3/4 block of softened cream cheese
¼ tsp. apple cider vinegar
2 green onion stalks, finely chopped
Crab Stuffed Deviled Eggs
12 eggs
3 2/3 tbsp. mayonnaise
2 2/3 tbsp. finely chopped celery
2 tsp. spicy mustard
1 tsp. oregano
1 tsp. onion powder
¼ tsp. Worcestershire sauce
1 (6-oz) can pre-cooked crab meat, drained
Italian Style Deviled Eggs
12 eggs
1/2 cup creamy Italian salad dressing
4 tbsp. grated parmesan cheese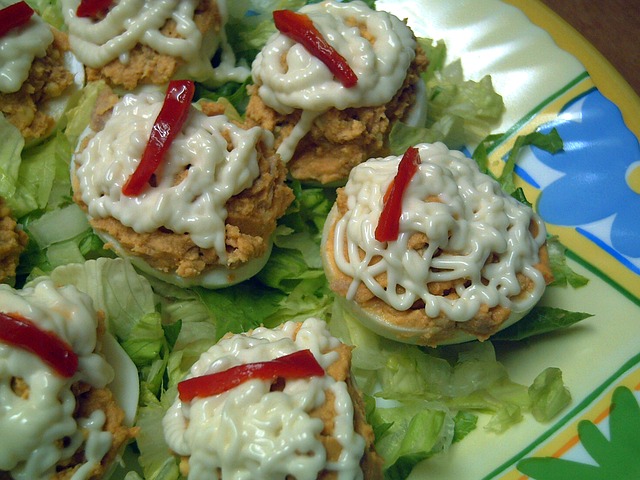 Mexican Style Deviled Eggs
12 eggs
1/4 cup mayo
1 tsp. cumin powder
1 tbsp. minced green onion
1 tbsp. spicy mustard
1 jalapeno, seeded and finely minced
1 tsp. Tabasco sauce
1 small red pepper in small slices (optional)
Pecan Deviled Eggs
12 eggs
1/2 cup mayonnaise
3/4 cup chopped pecans
3 green onion stalks – minced
1 tsp. apple cider vinegar
1 tsp. spicy mustard
No-Mayo Deviled Eggs
12 eggs
1/2 cup olive oil
1/3 cup apple cider vinegar
1 tbsp. lemon juice
Spinach Deviled Eggs
12 eggs
1/4 cup mayonnaise
2 tbsp. apple cider vinegar
2 tbsp. softened butter
1/2 cup frozen spinach, thawed and squeezed dry
3 bacon slices, cooked and crumbled
3 green onion stalks – minced