Beat Sugar Cravings with Koochikoo Sugar-Free Lollipops
Some days you just simply need a little something sweet. That one little craving hits and it simply won't leave you alone until you satisfy it. When you're trying to control your diet, whether it's for weight loss, health issues, or just because you're trying to take better care of your body, trying to find a sweet treat that won't blow your entire day can be a challenge. These kind of sugar cravings hit the young, the old, and everyone in between from time to time. The good news is you can beat sugar cravings without sugar!
Koochikoo Lollipops were created by Grandma Sal, who after years in the organic food industry, wanted to see more natural, sugar-free candy options. She created the world's first sugar-free organic candy, foregoing all of the chemical sweeteners that are so common in sugar free candies. Her passion for organic food brought about an answer that allows people to beat sugar cravings and brings a smile to everyone's face.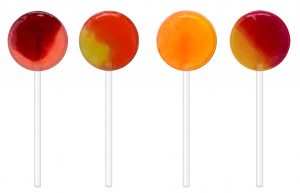 Natural Sweeteners Beat Sugar Cravings
Though it might seem like a silly idea, you don't need sugar or even artificial sweeteners to fight the cravings you get for candy and sweets! Koochikoo Sugar-free Lollipops are a delicious organic solution! Containing only 10 calories per lollipop, these yummy treats don't contain any sugar or artificial sweeteners. Koochikoo lollipops are sweetened with tapioca fiber, which brings about 60% of the sweetness of sugar to each pop, similar to that of a soft honey.
Natural flavors add to the delicious taste of these wonderful lollipops! There are four superfruit flavors to choose from that have a fun, sweet taste with just a hint of sour. You can enjoy Fuji Apple, Blueberry Lemon, Pomegranate Blueberry, and Pineapple Orange. No matter what fruit you enjoy, there's a combination that you'll love!
Other Great Benefits
Tapioca fiber does far more than just give Koochikoo pops the organic, natural sweetness that make them so delicious. It also provides necessary dietary fiber that aids in digestion and supports heart health! Tapioca fiber is a prebiotic that works in the digestive system to balance the good bacteria in the gut. Each of the lollipops contains more than 5 grams of dietary fiber, which contributes your recommended daily fiber intake.
Koochikoo Lollipops are manufactured in a facility that is gluten-free, dairy-free, and peanut-free. They are certified KOF-K Parve, making them appropriate for those who keep kosher. The ingredients in all of the flavors of Koochikoo Sugar-Free Lollipops are all organic, making them non-GMO, as well as being vegan. All of these wonderful features make these lollipops a great choice for almost anyone!
If you'd like to give Koochikoo a try, stop by your local TJ Maxx, Marshall's, or Home Goods to pick some up. Or you can find them online at the Koochikoo Amazon Store. Take 10% off your order of Koochikoo lollipops by using the code lollipower in Amazon checkout.
Which flavor of Koochikoo lollipops do you think would help you beat your sugar cravings? Me? I'm partial to the Pineapple Orange flavor.