Mrs. Fields Cookie Cuttables Rock!
If you have This is where Love with Cooking's Mrs. Fields Cookie Cuttables make cookie cutting a breeze! Love with Cooking sent me one of the Mrs. Fields Cookie Cuttables to review free of charge. Mrs. Fields Cookie Cuttables are available in the following:n't noticed by now, I love cooking and baking. Especially cooking and baking from scratch. I recently had the opportunity to work with Love Cooking Company. They sent me one of their latest product releases and I could not wait to try it. Have you every used alphabet cookie cutters? If you have and you are anything like me I always lose some. I don't know how. I think it is my obsession with cookie cutters and having so many that I just forget where I put them. Even when I can find all of them it is time-consuming making sure that I can spell out what I want to say with using as much of the cookie dough as I can.
Happy Easter
Happy Halloween
Merry Christmas
Happy Birthday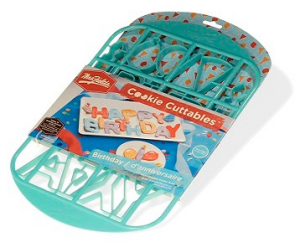 Mrs. Fields Cookie Cuttables are so easy to use and makes cookie cutting a breeze! I highly recommend flouring your working area so it is easy to move your cookie dough after cutting and prevent sticking and breaking. I simply roll out my favorite cookie dough (make sure it is room temperature.) to my desired thickness, making sure that the cookie dough is the same length to use the cuttable. Place the cuttable over the cookie dough and using your rolling pin press firmly down on to the cuttable to ensure that the cookie dough is cut completely through. Carefully move the letters to a greased cookie sheet and bake until ready. That's it. I let my kids decorate the cookies as they wanted. I love how easy the cuttables are to use! I can even wash them in the top rack of the dishwasher!

I used the cuttables to make my husband his favorite cheesecake cookies. I won't lie the cookies were FABULOUS!. It's a secret family recipe so unfortunately, I will not be sharing that today. It's no secret that I'm not a cake or cookie decorator, so while my cookies tasted amazing they didn't look so amazing. Had I only frosted them, they would have been great. But then I got this idea to add sprinkles and as you can see from the image, not so pretty. But delicious.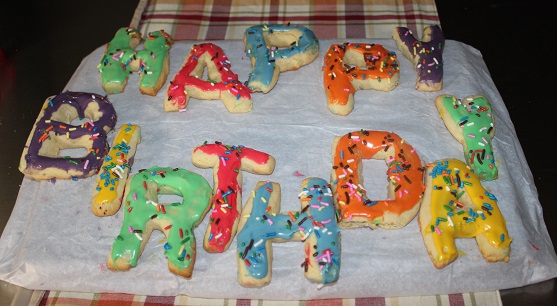 If you would like to learn more or if you would like to purchase a Mrs. Fields Cookie Birthday Cuttables, please visit the Love Cooking Company Website. Don't forget to follow Love Cooking Company's social media pages on Facebook, Pinterest, and Twitter to stay up to date on all of the latest news and products.

Disclaimer: Country Gal received product free of charge to write our review. All opinions stated in our review are our own truthfully opinion and were not influenced by the sponsor or from getting the review product free of charge. We were in no way compensated for our review or opinion.