Homemade Country Farm Biscuits
This is a great country biscuit. It's buttery and flaky! It's a cold winter day here in the Midwest and hubby is asking for biscuits and gravy. Yummy! Sounds perfect for a day like today. Because as you can see from this mornings picture of me and Harley it's cold and snowing on the farm. Farming never takes a backseat to Mother Nature. Oh how I long for spring flowers and gardening!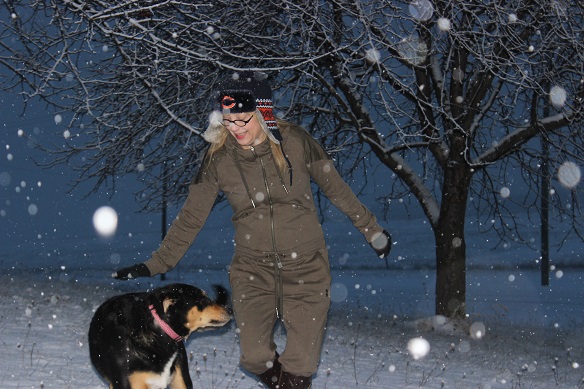 Harley girl really had a good time outside with me this morning. She's like my baby and spoiled rotten too! Okay, on to the biscuits. They tuned out delicious and perfect for biscuits and gravy.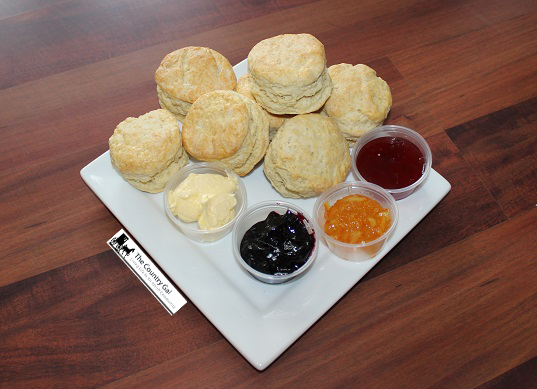 Our ingredients. I've already added the salt, sugar, and backing powder to the flour.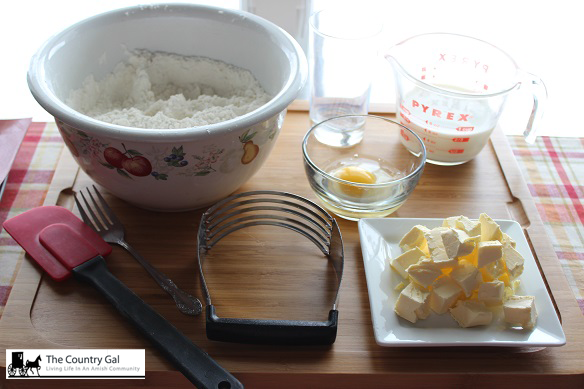 After I add all the dry ingredients to the flour mixture, I hand sift it. Basically just run my hands though it several times breaking up any clumps and making sure it's all mixed well.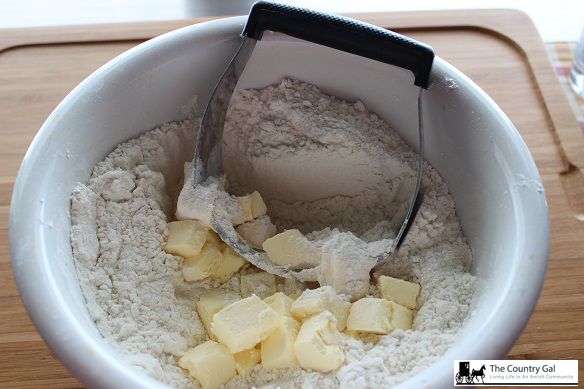 I add my butter to the flour all at once. The butter needs to be VERY cold. The colder the better. I then use a pastry tool, or potato masher to blend the butter into the flour. You basically just want to blend it well until it looks a little chunky.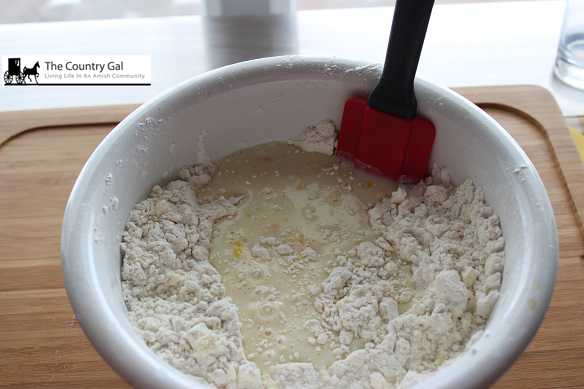 I like to make a little moat in the center of the flour mixture and then add the milk and egg. I mix the egg in the milk before I add to make sure it's mixed well.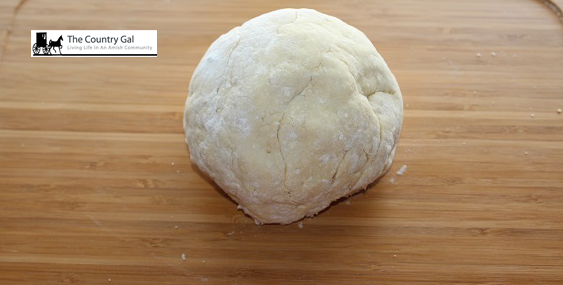 Once it's mixed well, form the dough into a ball. If it feels too wet, add a little flour. But not too much. It's easier to add than it is to take it out.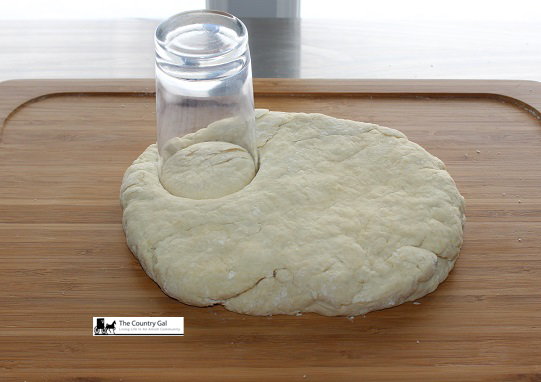 Flatten the dough to about 1 inch. I use a small glass to cut the shapes but you could use a cookie cutter to. I just like using the glass better.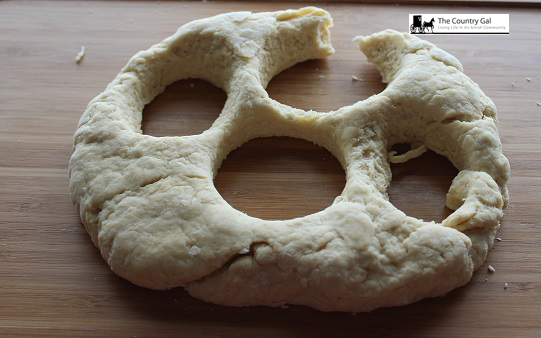 You'll get four to five biscuits with the first cut. Simply reshape and cut more until there is no dough left to cut.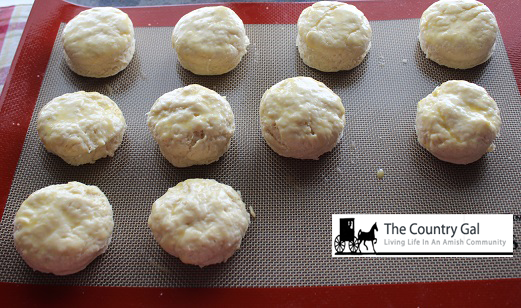 I was able to get 10 good sized biscuits out of this batch. You could cut them a little smaller and get a dozen easy. My hubby just happens to like them bigger. These are perfect for biscuits and gravy. When I eat gravy on a biscuit, I don't like my biscuit to get soggy. They wont with these babies! These Homemade Country Farm Biscuits also pair nicely with our Hearty Ham and Potato Soup.
Enjoy
The Country Gal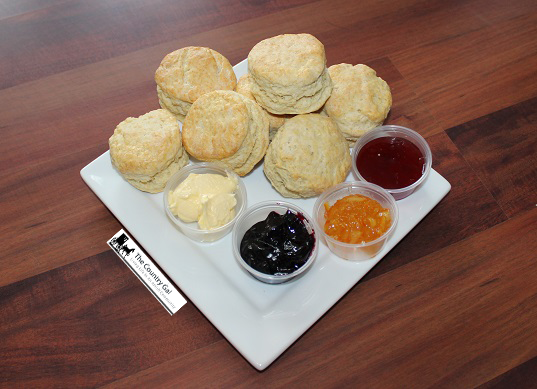 Homemade Country Biscuits
2014-01-05 13:28:53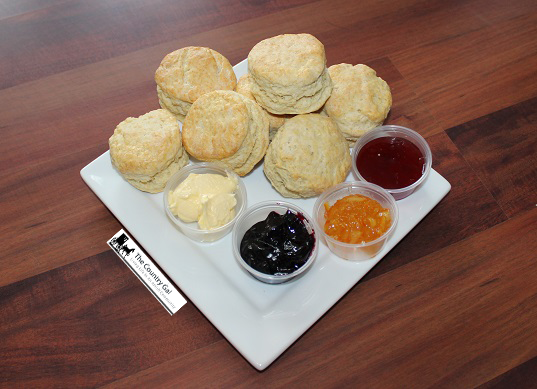 Serves 5
Ingredients
2 1/2 Cups Flour
2 1/2 Teaspoons Baking Powder
1/2 Teaspoon Salt
1 Teaspoon Sugar
1 Cup of COLD butter
1 egg
3/4 Cup Milk
Basting
2 Tablespoons of melted butter for basting the top of the biscuits
Instructions
Preheat oven 350
Bake @ 350 for 20-25 minutes
Add the dry ingredient in a large bowl. Mix well.
Add the milk and eggs and mix until a ball forms.
Sprinkle a little bit, just a little bit of flour on a cutting board and press down on down until it's about 1 inch thick. Cut out biscuits with cookie cutter or glass. Reshape and reapeat until there isn't any dough left to cut. Using the melted basting butter, brush the top of the biscuits. This will give them a golden brown color while baking.
The Country Gal https://thecountrygal.com/